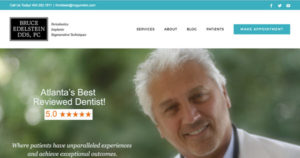 Showcasing Dr. Bruce Edelstein's stellar patient reviews as a dentist and periodontist were at the core of the TecAdvocates website renovation for mygumdoc.com. The new website provides an inviting platform for new patient engagements as well as a comfortable place to nurture patient relationships.
Click here to see the mygumdoc.com website for Dr. Edelstein.  
And if you need to make a dentist appointment, you can do that, too.