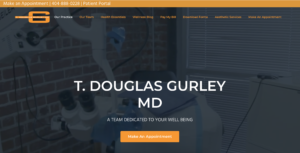 TecAdvocates is proud of the work we did on the website renovation for T. Douglas Gurley MD.
The addition of Dr. T.C. Elliott to the practice was a good time to refresh the website with a modern look and enhanced mobile friendliness.
Check it out.
https://tdouglasgurleymd.com/
Have you made a change to your business or organization?
Is your group growing?
Want more onsite wins from the growing mobile market?
Ready for a change?
Then NOW is the perfect time to update your website.
TecAdvocates can help. CLICK HERE.